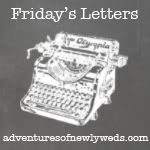 Dear Blog,
I have been neglecting you. I am so sorry. I have missed you. Let's start fresh today, ok?
Dear Hunny Bunny, I've missed you this week. I am so glad you're on your way home! Thanks for making the time to take my Nana out to lunch & dinner while you were in Florida, on bizzness. (!!) You're my A Train!
Dear Sweet Neighbor L, I love our walks. I love getting my sweat on while talking to you about anything and everything. Look forward to it every time.
Dear Prince Pikachu Kimchee, you are so high maintenance. It's a good thing I don't work, so I can be here all day at your beckoned call. I mean, looking at me and whining for your treats and to be let outside to bark at the dogs next door every 10 minutes, really? Go take a nap already, please!
Dear Amazon, Thank you for bringing all of those wonderful boxes to my front door. Your the best!
Dear Uber Car, I am so excited about discovering you! Thank you for bringing HB home tonight, so I don't have to drive to the airport in the rain. I'm sure we will see you again this weekend, if we decide to go out.
Dear Body, Thank you for finally co-operating with me!! I have worked really hard and you are finally showing it! You made my day (heck, you made my week!) when I got on the scale yesterday! THANK YOU!!
Dear Physical Therapy, You are so hard to get to and your parking is ridiculous. I'm glad my arm is feeling better, because I'm not coming back, unless I call Uber Car!